Wow it's finally dawned on me today that I'm actually going to Japan. The four of us (me, Imagak, Lestaki and Neve) met up at London Heathrow Airport on the morning of 5th September and got on the plane to Narita Airport in Tokyo.
The flight itself wasn't particularly interesting… The 4 of us didn't get much sleep on the 12 hour flight. However, there was one point of note. As both Imagak and I are Chinese, various flight attendants thought we were Japanese and spoke to us in Japanese… We were like "Nihongo ga hanasemasen."
12 hours later, we arrived at Narita Airport. It was the morning of 6th September, Japanese time. While we waited for the luggage to be removed from the plane, we went to the toilet.
The toilets were amazing. There was a control panel next to it, with numberous buttons on it. One of the buttons had a picture of what looked like an ass with water sprinkling it. Another button controlled water pressures of some sort and another controlled the temperature of the water. After looking for a while, I found the button to flush the toilet.
After getting our luggage and going through customs, Imagak and I immediately took out our cameras and hung them around our necks, as we thought this would make us look like tourists and we wouldn't get mistaken as being Japanese. It worked.
This is when we got out of customs and making our way to the metro.
Random vending machines (these seem very common in Tokyo) and Starbucks.
So we needed to go to Ueno station on the metro. First problem came up… Getting the tickets. After looking around for a bit, we found the place that sold tickets. Luckily, the woman at the counter knew a bit of English and we got our 4 tickets.
The next problem was getting into the station. The tickets looked far too small to fit into the barriers. So we all just walked through with a confused expression on our faces (apart from Imagak, who put his ticket into the barrier slot, which we later found out was the correct procedure). We continued walking until we reached a second set of barriers. Imagak, who had put his ticket into the previous barrier, put it in once more and it opened up. We then followed suit, but the barrier refused to open, as we hadn't put out tickets into the previous barrier. So we were looking around with a wtf? expression on our faces as Imagak looked on from the other side of the barrier laughing at our failure. A train station attendant came over looking bemused and took our tickets (to check them I presume) before giving them back and then let us through.
We went downstairs into the platform and waited for the train. My first impression of the metro was that it was huge. It was much wider than the underground in the UK. We got onto the train heading towards Ueno when it arrived.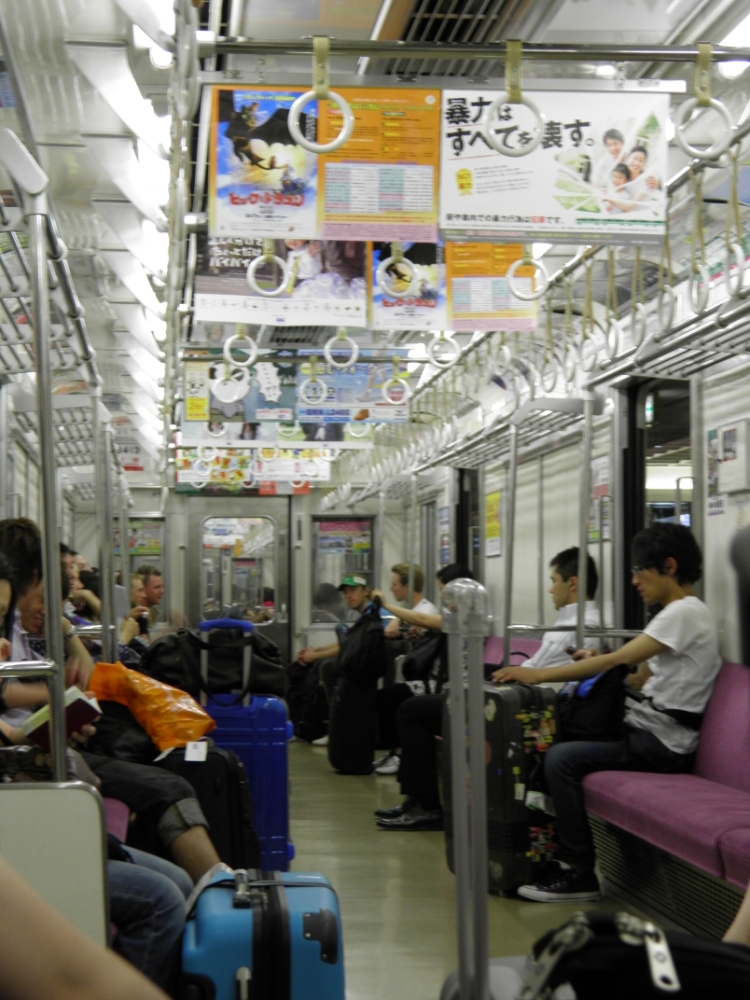 This was inside the train itself. It was a lot wider than the trains in the UK. We hunted for seats for a while. We found some empty seats and sat down. We realised why they were empty after a while. Apparently, the blue seats were reserved for the elderly, the pregnant, the disabled, etc. We were meant to be sitting on the purple seats. So because of that, and also because we taking pictures of random stuff, we attracted odd looks from the other passengers. But hey, we were baka gaijins, so that's all good.
Sign showing the seats were meant to be priority seats and a random windmill we passed on the train.
We reached Ueno station and got out without any more problems. It was lot hotter than we expected. The weather forecast had said it would be in the high 20s, but in fact, it was mid 30s. It was like a cool day in China. We were tired as hell and looked for a place to eat.
This was the main road outside Ueno station. We found a McDonalds after a while. That was the easy part. Ordering the food was another matter though. The staff didn't speak that much English. After jabbing at the menu for a while, we got our point across. At least the girl who served us was hot.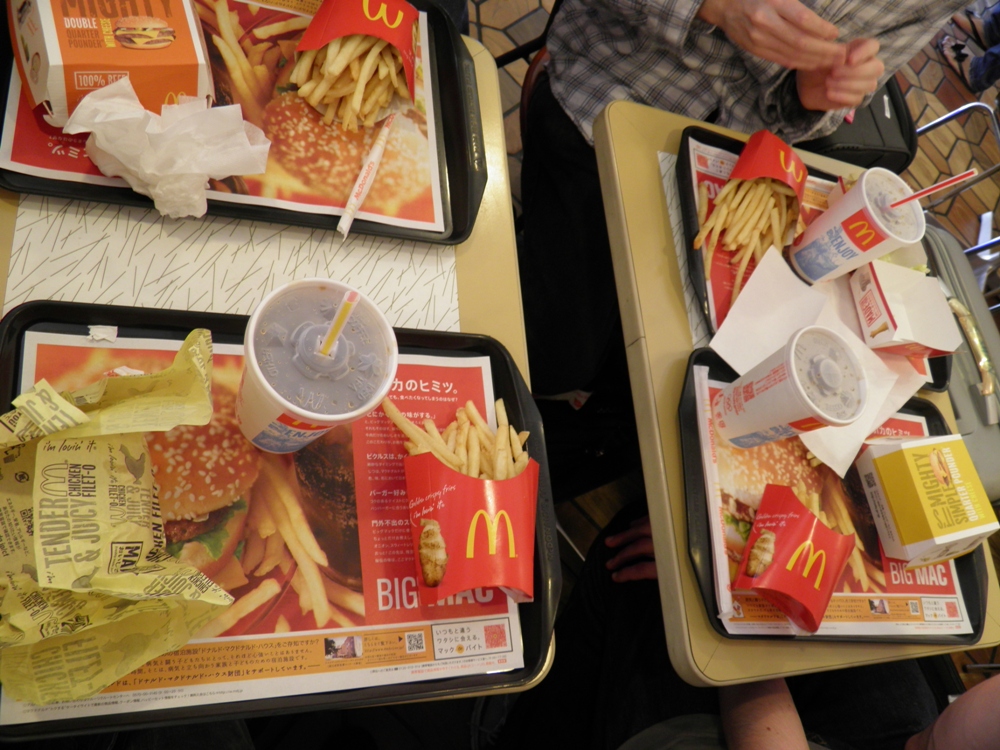 Our first meal in Japan… was chips and burgers lol.
After our meal, it was time to head to the hostel that we're staying at. We had to get to Minowa Station which was 2 stations down from Ueno Station. We got to Minowa Station alright… but it was a nightmare finding the hostel.
We studied our map and a map of the surrounding area outside Minowa station. I watched over the suicases while the others debated which direction to go. After coming to a decision, we set off.
So we walked and walked… After a while, stopped at where we thought the hostel was, but it wasn't there. Wtf? We carried on walking and finally realised we had no idea where we were. Luckily, a nice old Japanese man came to our rescue. He took us inside his shop and took out a map. He did not speak a word of English. As my Japanese was probably the best out of the 4 of us, I attempted to communicate to him that were lost, and where we were on the map. Koko wa doki desu ka? And pointed at the map. "Eki?" And also pointed at the map.
He understood and started talking, and from what little Japanese I could understand, I realised he was telling us that we'd walked in the wrong direction when we left the station. After "Arigatou gozaimasu." and "Sayonara!", we headed back towards the station and continued in the other direction. We walked and walked and got lost again. Another passer-by came to our rescue. Japanese people seem to be so nice. Back in the UK, we'd have been mugged long ago lol.
So after realising we didn't walk far enough, we continued and finally found the hostel. It was now 1 PM or so.
This was the road outside the hostel.
We had about 2 hours to go before we could check into our rooms, so we played some mahjong to kill time.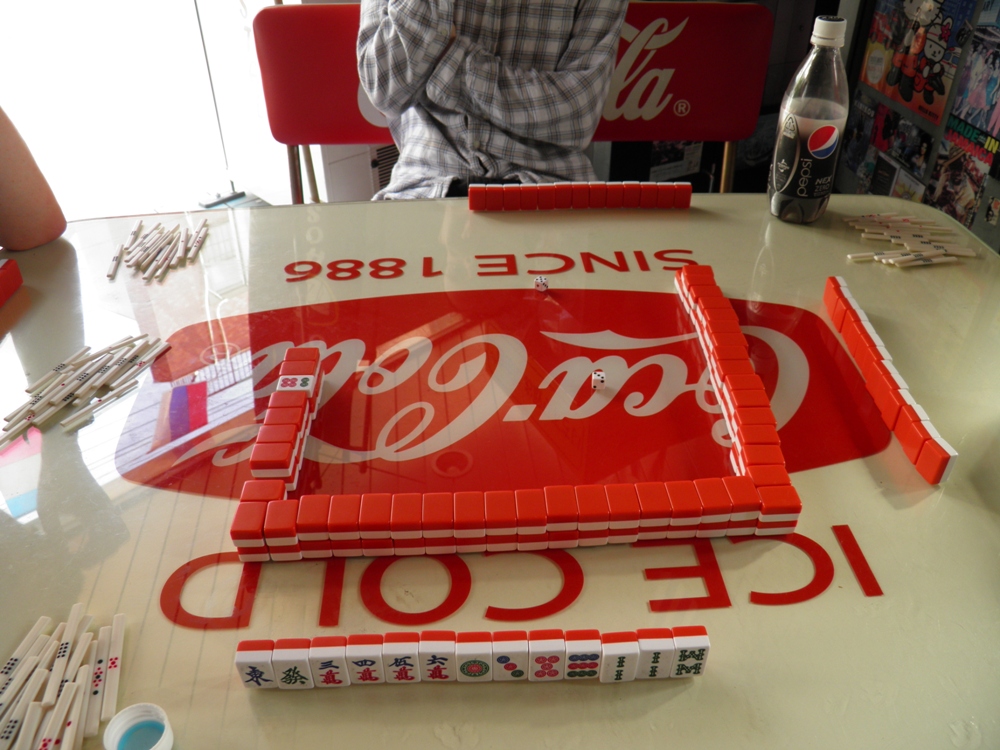 At 3 PM, we checked into our rooms and chilled out for the rest of the day. We were all too tired to do anything (and it was too hot outside anyway)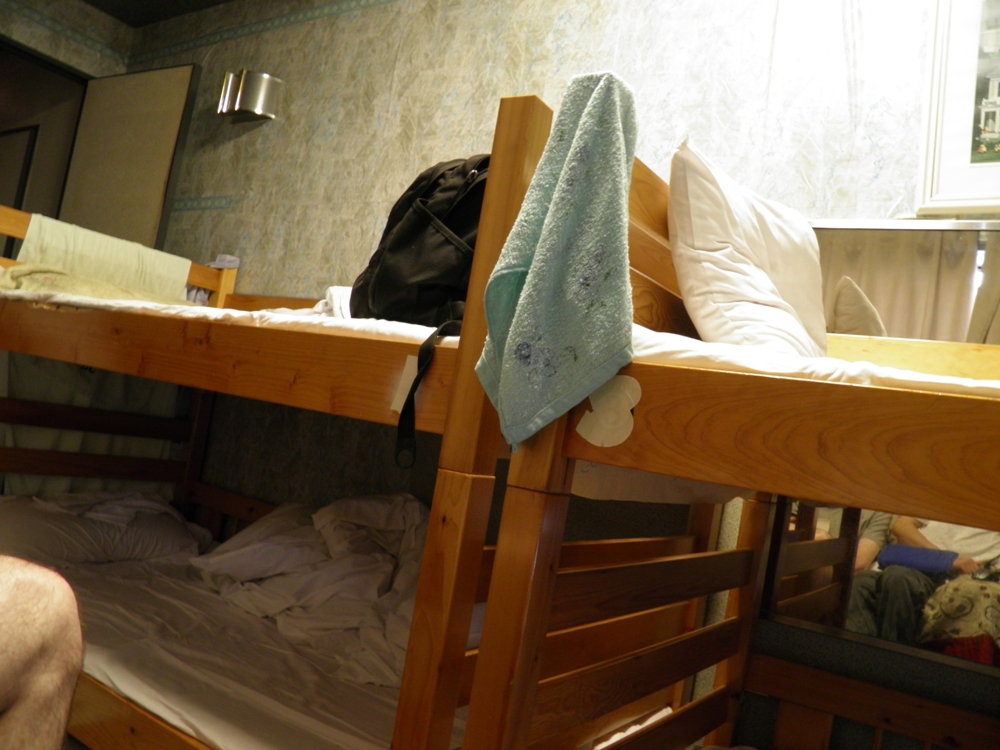 This is our room. We stayed here for one night only. We crawled into bed at around 7:30 and got up 6 AM this morning.
Today, we're heading to Akihabara! I'll be taking a lot of pictures.